Click, select, and just like that -- your files are deleted using an intelligence agency-level file deletion
algorithm that no one can defeat.
You can choose from among 10 different shredding pattern algorithms plus a custom setting and from
1 to 100 passes using the chosen algorithm. All the shredding power, and more, that you'll most likely
ever need. As Jack likes to say, "a little overkill is a good thing".
Jack also has a complete "Drive cleaner" function which shreds the previously deleted files on your
computer. Great when selling or disposing of your PC -- because "your old computer could come back to
haunt you!"
In this age of rampant I.D. theft, everyone needs a file shredder like Jack the Shredder.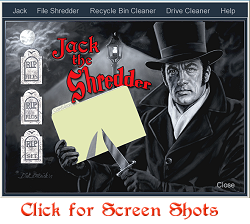 Includes a FREE copy of 'Chief Inspector'!
With each copy of Jack the Shredder, you also get a free copy of 'Chief Inspector', the built-in file and hard drive analyzer that "actually shows you" just how unsafe it is to leave un-shredded files around.
Click on the badge and 'Chief Inspector' opens and scans your hard drive for recoverable files, proving beyond a reasonable doubt that the files you think you've "deleted" are in fact very much intact and accessible to everyone who cares to seek them out.
Want to see something really scary? Install Jack the Shredder for the first time and let 'Chief Inspector' show you files on your hard drive that you thought were deleted but are actually waiting for someone else to come along and restore!
Yes, Jack the Shredder is the first file shredder to offer proof of the error in your way of thinking about deleted files; an error that can harm you, your business, even your loved ones in ways you never before thought possible.
More control! More features! More safety!
Jack the Shredder combines precision file removal with total control; it's probably the most full-featured file shredder you'll ever see.
Just look at the features that come standard: